About us
Meet the Hemro Hospitality team.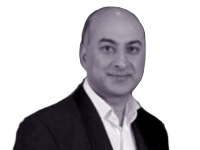 Manoj Bhardwaj
CEO
Manoj is the principal and driving force behind the business. He is an accomplished and experienced professional, having owned and operated a variety of businesses in a cross section of industries including hotels, leisure, property, TV, media and finance.
Manoj trained and qualified in 1994 as an accountant with BDO Stoy Hayward, a top 10 firm of Chartered Accountants, this qualification providing the foundation and backbone on which to develop his skills and experience. As a result, Manoj approaches matters from a strong commercial and financial background with a particularly strong understanding and appreciation of the importance of a solid financial base.
Shortly after qualification, Manoj was headhunted by a newly formed company, Chamberlain Hotels, a business which rapidly expanded and grew in a short space of time to just under 700 bedrooms, with associated conference and banqueting facilities. Manoj became a main board director and together with two associates created and developed a business over eight years, from a standing start, to around £12m turnover producing an EBITDA of approximately £4.5m. The business was sold to The Jury Doyle Hotel Group in 2001 for £42m.
A foray into private equity finance provided Manoj with experience in media, animation, brand licensing, property, real estate development and student accommodation. The investment projects varied in size and complexity ranging from c£3m to c£200m.
In 2010, Manoj was approached to take on the role of Group Managing Director for a Pan European leisure company based in Portugal. The hotel resort, property and leisure club business had operations in Portugal, Spain, Tenerife and the UK with c1,500 bedroom, 700 staff and producing €35m turnover.
The primary objective was to take over control and apply his skills in turning around the business in order to prepare the company for a trade sale. Manoj, together with his team, managed all aspects of the operation, turning a declining business around and into profit. The company achieved greatly enhanced profitability with an overall increase of 169% over a twelve month period with EBITDA rising from €3.4m to €9.3m.
With a career that spans over 25 years in the industry, Manoj possesses a wealth of experience in developing and successfully implementing business strategies that add value and deliver exceptional returns for clients.
The diversity of his experience ensures that size and complexity of any project is no barrier. With strong business acumen, a proven track record of results and extensive management expertise, at Board level and with a hands on approach, Manoj and his team can demonstrate how they have successfully turned around underperforming assets.
David Raymond
Development Director
David heads up Hemro Hospitality's design and development team. Having established himself in the construction and refurbishment industry over the past 20 years, David brings a wealth of experience in contract management and general building works and will work alongside our clients' architectural and construction teams offering practical solutions to space planning designs and the operational environment.
David has managed a cross section of projects covering the full spectrum of residential, commercial and hotel construction and refurbishment. This ranges from high specification, architecturally designed developments, historically listed Georgian, Victorian and Edwardian properties, through to developing and designing homes for first time buyers.
With an educational background in design and modelling, David continues to have a keen interest in researching into new and innovative architectural, design and product solutions, offering creative design ideas as well as the use of new eco sustainable materials, incorporating them into our projects.
David's extensive product knowledge and experience can assist you in the various intricacies of construction, quality control and health and safety as well as planning your hotel construction project from inception to completion.
David Carr
Consultant
With over 35 years in practice David has extensive experience in providing legal advice on all aspects of commercial, residential and hotel and leisure property. Historically, as a transactional lawyer this has extended from major development work to more recently investment portfolio work of both a commercial and residential nature, combining this with an overview and working knowledge of landlord and tenant work, as well as funding, with experience of working with different overseas jurisdictions. David has also acted for major clearing banks as well as private banks on their financing and restructuring of finance for all different types of property.
David has also worked on the acquisition and sale of many hotel and leisure properties and projects, ranging from City Centre and niche country, boutique hotels to the purchase and sale of public houses and leisure properties. He has also acted for market leaders in the Serviced Apartment sector on both the acquisition and disposal side.
David in his career has worked both in the City and West End for High Profile law firms, as well as two spells working with leading provincial law firms in the Home Counties. As a result, a particular skillset which he brings to Hemro Hospitality is in his very extensive list of contacts and his "Black Book", built up over many years, as a result of which he has an innate ability to connect people together and source opportunities. This, combined with the acquired wisdom of 35 years in these sectors, will help open doors and provide a useful sounding board for clients and for Hemro Hospitality management.
David is still in practise with a City and leading Thames Valley Law Firm as a Consultant, working on a part time basis, which therefore enables him to keep abreast of rapid changes in the Law as well as having fast access to trusted colleagues for additional advice and support.
Alexandre Reis
Financial Controller
Alexandre is an experienced finance, property and hospitality professional with a strong audit and accountancy background having previously worked for Pannell Kerr Forster and Holiday Inn (part of the IHG group).
Alexandre covers the financial control role and support to Hemro Hospitality and assists clients with implementing strong processes and systems of financial control to ensure the requisite checks and balances are in place and adhered to.
As a graduate in Business Management and with a Post-Graduate degree in Hotel Management, coupled with a background in the tourism industry which he used to great effect as a coordinator of investor relations for the Algarve Tourism Board and as a manager of a portfolio of serviced apartments, he provides invaluable support in the industry.
HEMRO HOSPITALITY
52 Brook Street | London | W1K 5DS
Telephone: +44 (0) 20 7698 4457
© 2017 Hemro Hospitality | Privacy policy | Disclaimer